Graham Crackers Comics
Graham Crackers Comics is Chicago's #1 comic book store with 11 locations across the city. While doing my case study I found out that the name stems from the founder, Graham, who decided to do a play on his name. The stores are filled with diverse material and if you for some reason can't find what you're looking for, the workers will find it for you.
When coming up with three logo ideas, I kept all this in mind.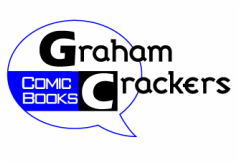 Original Logo and Store Front